Description
This Pisang Goreng frying machine makes delicious Pisang Goreng, a popular snack in Indonesia. The fryer provided by our company can realize automatic production, which is suitable for restaurants, fast food restaurants, and food processing plants. In addition, this machine can also fry green banana fries, which are crispy and delicious, making them easier to sell. In addition to providing green banana fries frying machines, we also provide frying solutions, which can be matched with slicers, degreasing machines, seasoning machines, and packaging machines according to the needs of different customers.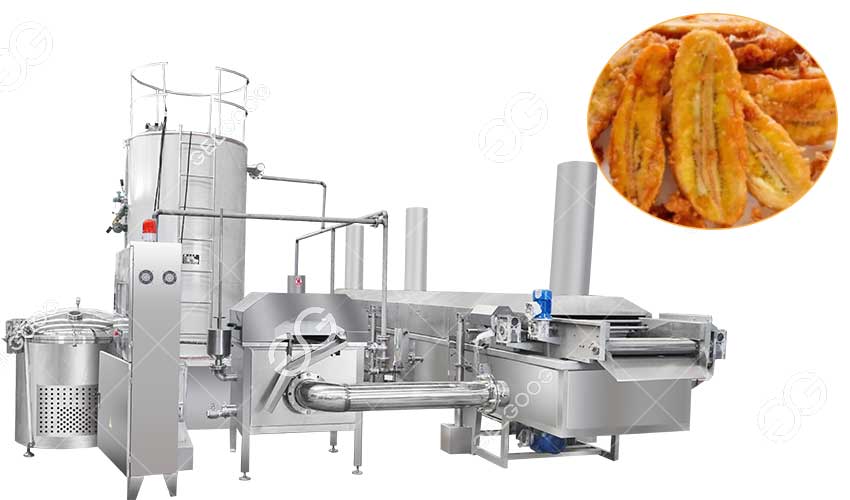 Features Of Pisang Goreng Frying Machine
This machine is suitable for businesses of different processing scales, and its processing capacity is between 100kg/h-1000kg/h, which can be flexibly customized according to their actual conditions.
This fryer has a variety of heating methods to choose from electric heating, gas heating, and external heating.
The stainless steel material with strong corrosion resistance and moisture resistance is used, and it is easy to clean and maintain.
Easy to operate, using a PLC operation panel, the frying temperature and frying time can be precisely controlled. It can be used for any kind of product that is fried.
The frying process is an automatic frying process. The mesh belt is continuously conveyed, and the transmission speed of the mesh belt can be adjusted.
In addition, the length of the fryer can be customized, and it can also be used with an oil storage tank.
Customer Feedback About Green Banana Fries Frying Machine
This green banana fries fryer has received many positive reviews from our customers, below is the feedback from our customers from Costa Rica. This customer purchased our fryer for frying banana chips, and the gas heating method is an external heating type. Customers say that the machines we provide are great, and the fried products look very good. It is completely automated production, which saves most of the production costs.
Our Advantage
Compared with other green banana fries frying machine suppliers, we have the following advantages and can win the trust of customers,
We have our own machine processing factory, which makes it easier to help customers achieve customized solutions. In addition, it is easier for customers to visit our factory and office environment for material tests and machine testing.
We provide high-quality service, whether it is in the process of use or other problems with the machine, we have professional service personnel to serve customers.
Schematic design: Our professional product engineers will design drawings according to the customer's plant layout to ensure better production for you.
This Pisang Goreng frying machine is a very popular and popular machine, if you want to get a free quote or more parameters and details about the machine, please leave us a message.
Technical Parameter
Model
Belt width
(mm)
oil pump power
(kw)
lifting power
(kw)
heating power
Dimension
(mm)
GGLZG3500A
800
1.5
0.55
20Wkcal
3700*1900*2400
GGLZG5000A
800
1.5
0.55*2
30Wkcal
5200*1900*2400
GGLZG6500A
800
1.5
0.75*2
20Wkcal*2
6700*1900*2400
GGLZG8000A
800
2.2
0.75*2
30Wkcal*2
8200*1900*2400
GGLZE3500A
800
1.5
0.55
90KW
3700*1600*2200
GGLZE5000A
800
1.5
0.55*2
120kw
5200*1600*2200
GGLZE6500A
800
1.5
0.75*2
190kw
6700*1600*2200
GGLZE8000A
800
2.2
0.75*2
255kw
8200*1600*2200