Description
The complete plantain flour processing machines are plantain washing machine, plantain slicer, plantain blanching machine, plantain dryer, plantain mill, plantain flour packaging machine, etc. Plantain flour is made of fresh plantains processed by advanced technology and then ground into flour, which has the functions of lowering blood pressure and helping digestion. It is higher in starch and is often used as a substitute for flour.
Raw materials: plantains.
End product: Plantain flour.
Processing capacity: 100-1000kg plantains/hour.
Payback Period: High rate of return and less investment cost.
Terminal packaging: bottles, cans, bags, etc.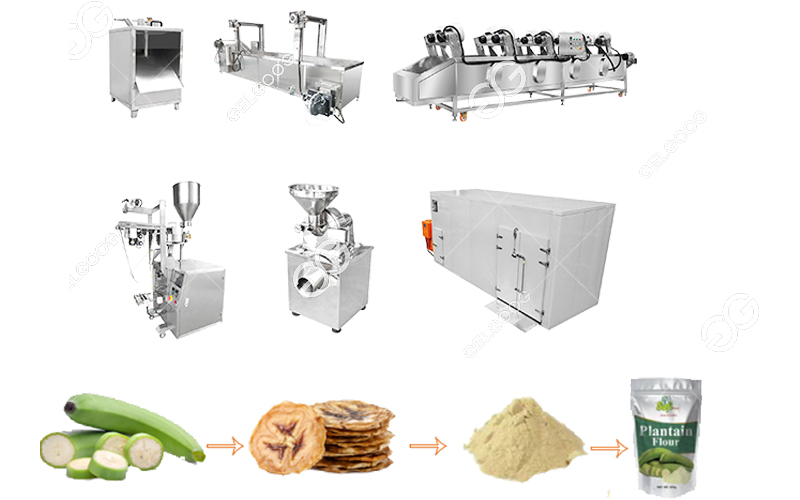 Introduction Of Complete Plantain Flour Processing Machine
Plantain Slicer Machine: The plantain slicer is to cut plantains into slices of about 3mm, and the sliced bananas are convenient for drying and grinding.
The thickness of the slices can be adjusted.
Small footprint, easy to operate.
Plantain Slices Blanching Machine: It is made of stainless steel, mainly to protect the color of bananas, which can well retain the color and nutrients of the product and reduce the degree of oxidation of the product.
The length of the fuselage can be customized according to the output
Blanching temperature and time are easy to control.
Plantain Dryer Machine: mainly for drying and dehydrating plantain slices, the plantains after drying are pale yellow, and can be used for grinding after drying.
Drying time can be adjusted according to demand.
The plantain dryer machine can be customized according to the output.
Plantain Powder Machine: plantain grinder grinds dried banana slices. The ground plantains are convenient for storage and transportation and have a longer shelf life.
The fineness of the grinding flour can be adjusted.
The whole plantain flour processing machine is made of stainless steel with high quality.
Plantain flour Packing Machine: Pack and store the ground bananas. Packaged plantain flour has a longer shelf life.
Advantages Of Plantain Flour Processing Machine
The subject part of each machine is made of food-safe stainless steel with stable quality.
Efficient operation, high efficiency, and low applause rate. The obtained plantain flour is of good quality and good-looking color. Low energy consumption, saving labor costs.
The processing technology of banana flour provided by our company is simplified and the equipment is easy to operate. Production is carried out in strict accordance with the national standard manufacturing process. Meets food safety standards. The packaging form of the finished product can be configured according to the retail requirements of the mall.
Our company has a special machine processing factory, you are welcome to visit, and you can also show the operation of the machine on-site through video.
If you want to know more details about these complete plantain flour processing machines or to get a free quote you can contact us.