Description
This plantain chips making machine has a high fuel-saving rate and is equipped with an oil circulation system and a filtering system, so there is no need to change the oil frequently. In addition, the mesh belt structure, heating method, and body length of this plantain chips frying machine can be customized according to customer needs. Commonly used in food processing industry, fast food restaurants, suitable for a variety of materials: frying fruit and vegetable products, meat products, pasta products, seafood.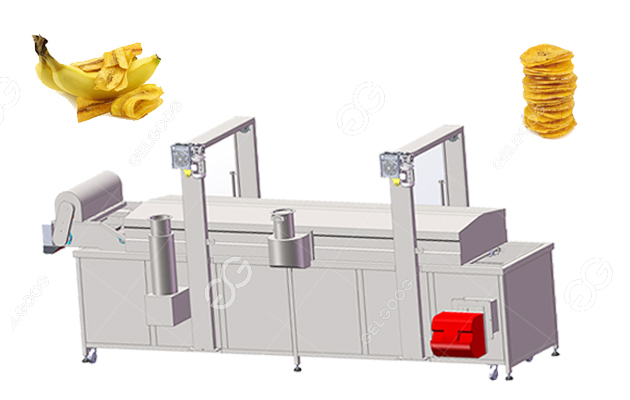 Working Process Of Industrial Plantain Chips Fryer
The materials that need to be fried are transported from the inlet to the plantain chips frying machine. The mesh belt can prevent floating during the frying process and ensure even frying. The fried materials are transported from the outlet to the next process.
Details Of Plantain Chips Making Machine
Pulley: The bottom of the industrial plantain chips fryer is equipped with a pulley for easy movement.
Sight glass: You can watch the water level.
Operation panel: control frying temperature, frying time, mesh belt speed, etc.
Oil replenishment port: Replenish oil.
Water temperature meter: You can watch the water temperature.
Drainage and slag discharge port: Allows the residue generated during the frying process to be discharged.
Highlights Of Plantain Chips Frying Machine
The mesh belt drive adopts frequency conversion step less speed regulation, and the frying time is controllable.
The fryer is equipped with a lifting system, and the upper and lower mesh belts, stirring wheels and smoke hood can be lifted for easy cleaning.
It has better production efficiency with an oil storage tank and oil filter.
Using electricity, coal, or natural gas as heating energy, this plantain chips making machine can be customized according to needs.
There is a slag discharge system at the bottom, which can discharge the generated residue and keep the frying oil clean.
Using a high-efficiency energy heat conduction device, the thick aluminum silicate insulation material is installed between the inner tank and the outer shell of the bomber, which has high energy efficiency and saves costs.
A wide range of applications can fry a variety of products at the same time, without mutual odor.
Less oily smoke is produced during frying, creating a good working environment.
It can be used with the plantain chips production line, or it can be used alone.
Working Video Of Plantain Chips Frying Machine
Below is the working video of this plantain chips fryer machine, which can be applied to a variety of materials: potato chips, banana chips, peanuts, chicken nuggets, pork skin, fish tofu, dumplings, chinchin, etc. If you want to know more details about this machine, please leave us a message and we will send you a quotation as soon as possible.
Technical Parameter:
Model
Belt width
(mm)
oil pump power
(kw)
lifting power
(kw)
heating power
Dimension
(mm)
GGLZG3500A
800
1.5
0.55
20Wkcal
3700*1900*2400
GGLZG5000A
800
1.5
0.55*2
30Wkcal
5200*1900*2400
GGLZG6500A
800
1.5
0.75*2
20Wkcal*2
6700*1900*2400
GGLZG8000A
800
2.2
0.75*2
30Wkcal*2
8200*1900*2400
GGLZE3500A
800
1.5
0.55
90KW
3700*1600*2200
GGLZE5000A
800
1.5
0.55*2
120kw
5200*1600*2200
GGLZE6500A
800
1.5
0.75*2
190kw
6700*1600*2200
GGLZE8000A
800
2.2
0.75*2
255kw
8200*1600*2200