Description
This long banana chips slicer can not only cut bananas into slices, but is also suitable for other root and stem fruit and vegetable products. It is a multi-functional cutting machine. By changing the knives, different shapes of finished products can be obtained: shredded, sliced, diced, etc. It has the characteristics of high production efficiency and stable operation. It is a commonly used cutting machine for fruit and vegetable processing.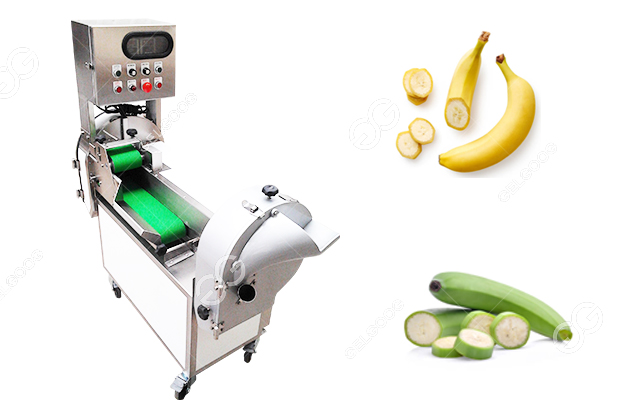 Features Of Long Banana Chips Slicer
*It is made of stainless steel and meets food production safety standards.
*It has the advantages of small size, high efficiency, beautiful appearance, complete functions, safe operation and compact structure.
*High performance-price ratio, saving labor and money, one machine can meet multiple purposes.
* Fast working speed, high efficiency and easy cleaning.
*The cutting knife can be replaced to cut fruits and vegetables into different shapes and sizes.
*Apply to a variety of root and stem fruits and vegetables, support customization.
Application Of Electric Machine To Cut Banana Chips
This banana chips cutting machine can cut a variety of root and stem fruits and vegetables into flakes, dices, flakes, and filaments. It can realize multiple functions in one machine and is an ideal equipment for fruit and vegetable processing.
Vegetables: potatoes, cucumbers, onions, carrots, cassava, tomatoes, green peppers, eggplant, taro, ginger, beets.
Fruits: banana, apple, strawberry, kiwi, lemon, fig.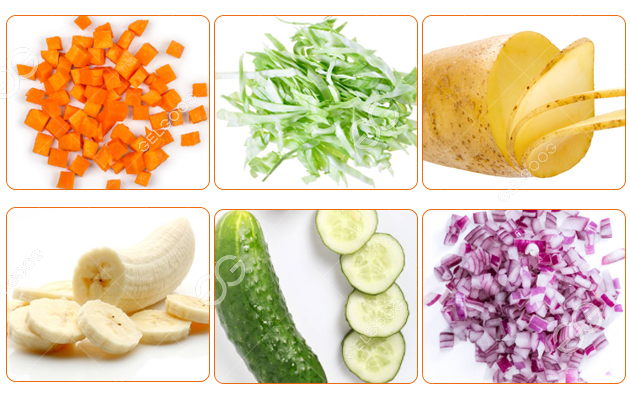 Precautions For Operation
Thiselectric machine to cut banana chipsdoes not have a pressure-feeding handle, but when pressure-feeding, the material is pressure-feeding, continuously pressing and feeding.
When cutting bulbous materials, it is best to clean the materials until there is no mud, otherwise it will damage the cutter.
Before cutting materials, start the long banana chips slicermachine for half a minute to let the machine run normally before putting down the materials to prevent damage to the motor.
Lubricate the bearings of the conveyor belt regularly. After the work is completed, it should be cleaned in time.
Work Video Of Long Banana Chips Slicer Machine
Below is the working video of this long banana chips slicer machine. It can be seen that it has a very high efficiency during operation and saves labor costs. In addition, this machine is also often used with banana production lines, such as banana chip production lines and so on.
Finally, if you want to know more details about this banana cutting machine and get a quotation, please leave us a message, we will give professional advice and let you choose the most suitable machine.
Technical Parameter:
| | |
| --- | --- |
| Model | GG-312 |
| Power | 220/380v,1hp |
| Weight | 70kg |
| Dimension | 720*500*900mm |
| Capacity | 300-600kg/h |