Description
This chips flavoring machine adopts the octagonal design principle, which is used to stir and season the fried plantain chips, and it can also be used for powder coating. The whole chips flavour machine is made of stainless steel, with reasonable structure, firm welding and low noise. It is widely used in the seasoning of a variety of foods: snack foods, fried noodles, nut foods.
Working Principle Of Plantain Chips Seasoning Machine
When the material falls into the drum, it is driven by the stirring blade to move upwards, falls from above, and mixes with the seasoning powder. During the working process, there is always seasoning in the dusting box. If the seasoning is found to be insufficient, add it in time.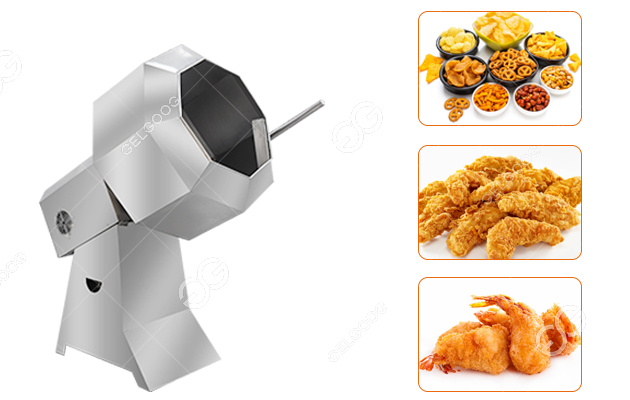 Features Of Chips Flavoring Machine
The seasoning barrel of this machine is shaped like an octagon, which avoids the disadvantages of uneven mixing.
The rotation speed and inclination of the drum can be adjusted, and the amount of spreading can be controlled.
Fan blades are arranged on the edge of the drum to prevent the raw materials from flying out.
It can automatically tilt to send out food materials, and there is no dead corner in the seasoning barrel, which is convenient for cleaning.
Simple operation, stable rotation and low noise, and the appearance of stainless steel is neat and generous.
In a short time, the food materials to be processed and the required seasonings are fully mixed and evenly mixed.
Application Of Plantain Flavoring Machine Philippines
This chips flavour machine is suitable for food processing industry. It can powder and mix lumps, flakes and granular food, and it can also mix and stir a variety of materials.
Below is the working video of this plantain chips seasoning machine. If you want to know more about this machine, you can leave me a message.
Operation Of Plantain Chips Seasoning Machine
Step 1: Connect this seasoning machine to the power supply.
Step 2: Start the motor.
Step3: use a conveyor or artificially to slowly and continuously send the raw materials for the seasoning to the seasoning machine
Step 4: Turn on the powder-spreading motor to spray the seasoning evenly in the seasoning machine.
Step 5: Check all operating parts and work after confirming normal operation.
Step 6: Adjust the speed. If the speed is too high, adjust the frequency conversion button. The speed can be slowed down and cannot be lower than 70% of the speed.
Step 7: If the material moves forward too fast in the chips flavour, it can reduce the inclination of the drum, and if it is too slow, it can increase the inclination of the drum.
Technical Parameter
| | | | | | |
| --- | --- | --- | --- | --- | --- |
| Model | Power(KW) | Size(MM) | Weight(KG) | Key size(MM) | Remarks |
| GG800 | 1.1 | 1000*800*1300 | 130 | Seasoningbucketφ800 | Manual sprinkling, automatic sprinkling function can also be customized |
| GG1000 | 1.5 | 1100*1000*1300 | 150 | Seasoning bucketφ1000 | Manual sprinkling, automatic sprinkling function can also be customized |