Description
The fruit banana chips production line is a kind of snack made of fresh bananas after cleaning, peeling, slicing, frying, and seasoning. It can not only retain the uniquely delicious flavor of fried banana chips, but also has a good appearance and rich nutritional value, and is favored by consumers. The capacity of this banana chips manufacturing machine ranges from 100kg/h to 1000kg/h, and it supports customization: it can be designed according to your plant and processing technology.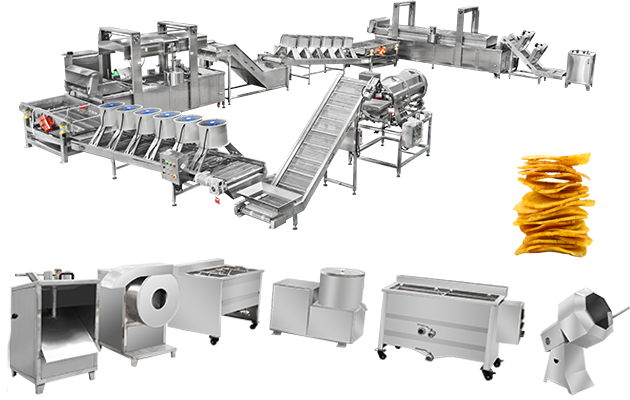 Optional Fruit Banana Chips Production Line:
We offer two types of production lines for you to choose from depending on the capacity, budget, and other factors you are dealing with. For someone new to the business and on a low budget, we would recommend a semi-automatic solution. For larger-scale customers, the fully automatic production line can realize mass production. But no matter which one you choose, it will increase your productivity and reduce labor costs.
Fresh bananas → slice → blanching (frame blanching machine) → frying (frame frying machine) → degreasing (small degreasing machine) → seasoning (star anise seasoning machine) → packaging
Fresh bananas → slice → blanching (continuous blanching machine) → dehydration → frying (continuous frying machine) → degreasing (vibration degreasing machine) → seasoning (drum seasoning machine) → packaging
Introduction Of Banana Chips Manufacturing Machine
Slicer machine: Bananas are cut evenly, and the thickness of the slices can be adjusted.
Banana blanching machine: To protect the color of banana slices and prevent oxidation.
Banana dehydrator: remove the moisture on the surface, reduce frying time,
Banana Chip Fryer: The heating method for frying is optional, the temperature is controllable, and the flavor after frying is excellent.
Banana Chip Degreasing Machine: It can effectively reduce the greasy feeling.
Banana chips seasoning machine: increase the flavor of banana slices and evenly season.
Banana Chip Packaging Machine: Extend the shelf life of the product and facilitate selling.
Advantages Of Fruit Banana Chips Production Line
This banana chips manufacturing machine is easy to operate, safe, and hygienic, and the material is made of high-quality stainless steel.2. Improve production efficiency and reduce production and labor costs.
The fried banana chips have the characteristics of good quality and high profit.
The production line process can be adjusted according to the needs of customers, with solid flexibility.
We have our own processing plant convenient for production and transportation.
Market For Fruit Banana Chips
Market Potential Demand and Supply of Banana Chips: Fruit banana chips have a very large market, and this snack can be seen in most parts of the world and is very popular among people. Therefore, banana chips have very broad prospects. If you want to start a banana chip business or want to expand, you can contact us and we will send you a quote as soon as possible.
Technical Parameter
| | | | | |
| --- | --- | --- | --- | --- |
| Machine | Power | Capacity | Weight | Dimension |
| Banana Peeling Machine | 1.1KW | 240pcs/min | | |
| Banana Cutting Machine | 0.75kw | 600-800 kg/h | 100 kg | 650*550*900mm |
| Banana Chips Fryer | 24kw | 100 kg/h | 140 kg | 1400*700*950mm |
| Deoiling Machine | 1.1kw | 300 kg/h | 360 kg | 1000*500*700mm |
| Seasoning machine | 1.5kw | 800 kg/h | 180 kg | 1200*1000*1400mm |
| Chips Packing Machine | 2.5kw | 30-60 Bags/min | 480 kg | 820*900*1980mm |