Description
The fully automatic banana chips making machine can save manpower for automation. The complete set of equipment consists of slicing, blanching, dehydration, frying, degreasing, seasoning, packaging and auxiliary equipment. Its hourly processing output is between 100kg/h-1000kg/h. This automatic banana chips making machine is reasonably priced and can help customers to achieve mass production of banana chips.
*Material: Banana
*Finished product: Banana slices (round, long shape).
*Custom: Support customization.
* Degree of automation: fully automatic.
*automatic banana chips making machine price: Depends on production
*Process flow of banana chips processing equipment: slicing → blanching and color protection → dehydration → frying → deoiling → seasoning → conveying → packaging.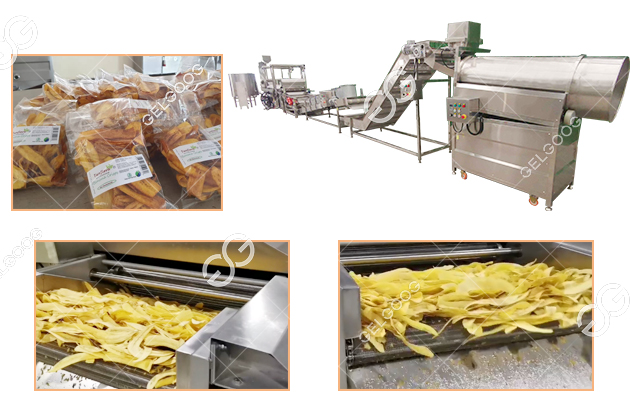 Introduction Of Automatic Banana Chips Making Machine
Banana slicer, this machine has four inlets, which can obtain finished products of different shapes. The thickness of the banana slices can be adjusted.
This continuous frying machine, it can work continuously and can control frying temperature and frying time.
Degreasing machine, which can remove excess oil in banana slices and maintain the taste and color of banana slices, which can effectively extend the shelf life.
Seasoning machine, you can add any seasoning to get banana slices with different flavors.
Packaging machine, extending shelf life and convenient transportation.
Advantages Of Banana Chips Making Machine Supplier
Material: As professional banana chips making machine supplier. The fully automatic banana chips production line provided by our company is made of high-quality 304 stainless steel, which meets the requirements of food production. Strong corrosion resistance, easy to clean, and has a long service life.
Performance: The automatic banana making machine is controlled by the operation panel, which is easy to operate, truly realizes the automatic operation, saves labor and saves energy. It has stable performance and high efficiency in the working process.
Customization: This banana chips making machine can be completely customized according to the customer's plant area, and can also be customized according to the output and heating method.
Service: The production line of fried banana chips is easy to maintain and perfect after-sale. If you encounter any problems in use, you can contact us.
Technical support: Our product engineers can provide technical support, installation training, video guidance, etc. Make sure your fried banana slices have an edge in both color and texture.
Automatic Banana Chips Making Machine Price
The price of banana chips machine provided by our company is favorable, and the price of different models of banana chips making machines is also different. If you want to get the price of this production line, you can leave us a message. We will quote you as soon as possible.
Technical Parameter
| | | | | |
| --- | --- | --- | --- | --- |
| Machine | Power | Capacity | Weight | Dimension |
| Banana Peeling Machine | 1.1KW | 240pcs/min | | |
| Banana Cutting Machine | 0.75kw | 600-800 kg/h | 100 kg | 650*550*900mm |
| Banana Chips Fryer | 24kw | 100 kg/h | 140 kg | 1400*700*950mm |
| Deoiling Machine | 1.1kw | 300 kg/h | 360 kg | 1000*500*700mm |
| Seasoning machine | 1.5kw | 800 kg/h | 180 kg | 1200*1000*1400mm |
| Chips Packing Machine | 2.5kw | 30-60 Bags/min | 480 kg | 820*900*1980mm |