What are the machines for processing banana flour in Nigeria? In fact, in the production of plantain flour, a complete production line of plantain flour is generally used for processing.
Plantain is a major food source in Nigeria and many parts of sub-Saharan Africa, with studies showing that plantain production exceeds 70 million metric tons per year. Despite this number, we are still in short supply because plantain is perishable in transit and not easy to store, and usually people process it into plantain flour for sale. This means that plantain flour has great commercial value.
Plantain Flour Processing Machine In Nigeria
Plantain blanching machine: After picking plantains of similar maturity and good quality, they need to be blanched. Plantains have tougher skin, so placing the plantains in very hot water to soften or weaken the bark so that it peels more easily is called plantain blanching.
Plantain peeling machine: The blanched plantains can be easily peeled using sharp objects such as knives. This mass production can also be handled by a professional peeler.
Plantain slicer machine: This machine can cut plantains into slices quickly, saving manpower greatly. Results are obtained easily and quickly.
Plantain chip dryer machine: The plantain chip dryer can dry plantain chips, evaporate water, and facilitate grinding after drying.
Plantain Chip Powder machine: The dried plantain chips are ground in the mill, which is a very important step. After grinding it is sieved to obtain uniform size.
Packaging machine: After getting the finished product, it is sealed and packaged to avoid the entry of moisture, which is convenient for storage.
Above are the machines used to process plantain flour in Nigeria.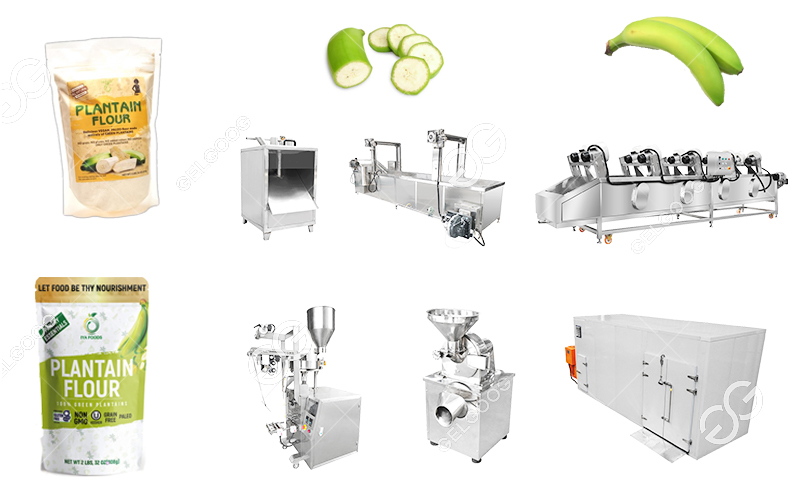 How Profitable Is plantain Flour Business In Nigeria?
Plantain is available in abundance throughout the year. Southern Nigeria is the main producing area of plantain and is the largest producer of plantain in West Africa. It can be said that Nigeria has unique conditions because it will reduce the trouble of supply. plantain flour is plantain fruit that is peeled, dried, and ground/ground into powder. Neither reduces the nutritional value of plantains, is more convenient to transport, and is often used as a substitute for flour. Today, plantain flour is a popular food item in local and international markets. In Nigeria, plantains can be processed into plantain flour and sold abroad. You can use this opportunity to find profitable business opportunities.
Finally, if you want to know more about the process of plantain flour processing or purchase-related machines, you can contact us, we are a professional plantain flour processing machine supplier and can provide professional solutions according to your needs.