How to make commercial plantain chips make it a profitable business? Do you have such doubts? Let us first understand the background of plantain chips.
Background Introduction Of Plantain Chips
Plantain chips are a popular snack in Central and South America, Africa, the Caribbean, and other places. They are often used as a snack food after meals and in their leisure time.
Fast-growing cities have increased the demand for plantain chips. Supermarkets, schools, hotels, restaurants, canteens, and enterprises all need a large amount of plantain, which also brings business opportunities and becomes a profitable business.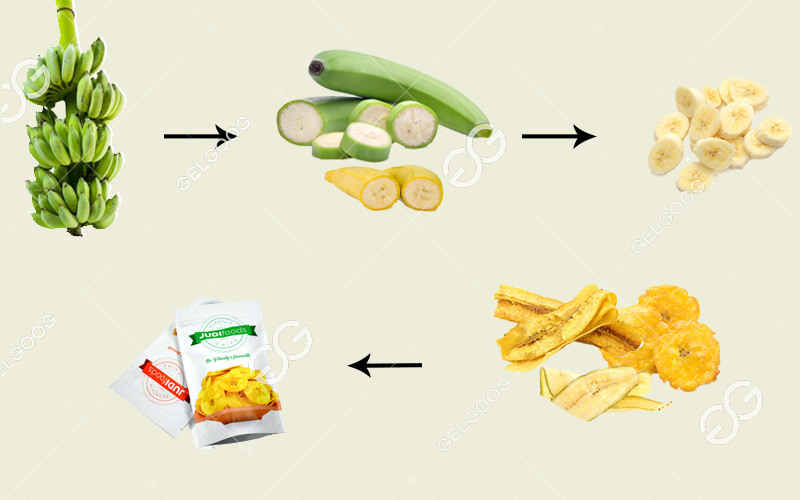 How To Make Commercial Plantain Chips
Plantain chips are delicious snacks that are made from immature plantain and processed by multiple machines. The production process mainly includes the following processes:
First: Choose plantains: The quality of plantains will directly affect the taste of plantain chips, so choose plantains with good quality and no rot.
Second: Washing and peeling plantains: Fresh plantains need to be washed, and blanched after washing. The purpose of blanching is to properly soften the skin of the plantain (which is harder) to facilitate manual peeling.
Third: Plantain slices: According to the thickness preference, use an automatic cutting machine to cut the peeled plantain into slices of about 2 mm to 3 mm. The shape of the slices can also be adjusted according to your own preferences, such as long plantain slices, round plantain slices and so on.
Fourth: Color protection or sugar dipping: The sliced plantain needs to be color-protected to prevent its oxidation. In addition, you can choose to dip sugar according to your taste preference.
Fifth: Frying plantain slices: Use a fully automatic plantain chips making machine to fry the plantain slices to a crisp state, which completely saves labor. The fried plantain chips are golden in color and have a good taste.
Sixth: Degreasing plantain chips: In order to obtain a better flavor, there will be more oil on the surface of the plantain chips after frying, which needs to be removed.
Seventh: Plantain chips seasoning: seasoning according to taste preference.
Eighth: Packaging of plantain chips: The packaged plantain slices are not only convenient for storage, but also easier to sell.
Ninth: Selling for sale.
The above is about how to make commercial plantain chips. If you know more details about the production of plantain chips, you can leave us a message. Our company is a specialized supplier of banana chip processing solutions and can provide you with more professional banana chip processing problems.