The Philippines has a very long history of growing bananas and is also one of the major banana producers in the world. The bananas grown in the Philippines are mainly exported to other countries. But bananas, as a perishable fruit, cause a lot of waste almost every year. This is one of the reasons why many businessmen start the banana chip business. As a banana growing area, the Philippines will have many banana chip processing factories engaged in this business. Because the processing of banana chips in the Philippines reduces the spoilage and waste of bananas in transportation, the supply source is more abundant. For anyone who wants to start a banana chip business in the Philippines, wondering about the price of banana chips making machines?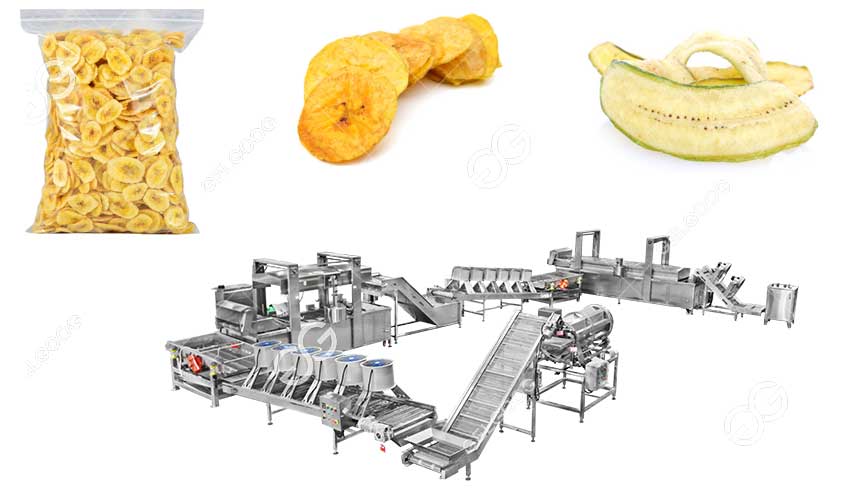 Banana Chips Making Machine Price In Philippines
If you want to start a banana chip business in the Philippines, you need to know two things about banana chip processing machines: What is a banana chip machine? banana chips making machine price in Philippines
What is a banana chips machine?
The banana chip-making machine usually includes a banana slicer, a banana chip fryer, a banana chip deoiler, a banana chip seasoning machine, and a banana chip packaging machine. Usually, these machines will be combined into a complete banana chip production line, which can realize fully automatic production.
commercial banana chips making machine price in philippines
After understanding the production machines required for banana chips, we need to know that the price of each machine is different.
Banana slicer: The main function of this machine is to slice bananas into thin slices. The price ranges from $2,000 to $10,000 depending on the cut shape and volume.
Banana chip fryer: used for frying banana slices. Depending on the heating method and the degree of automation, the price ranges from $4,000 to $30,000.
Banana chips deoiling machine: for degreasing, the price ranges from 1000 US dollars to 8000 US dollars.
Banana chips seasoning machine: It is used for banana seasoning, and its price is between 1,000 US dollars and 15,000 US dollars.
Banana chips packaging machine: used for packaging fried banana slices, the price ranges from US$3,000 to US$25,000.
Our company is a professional banana chip processing machine supplier. If you get a quotation about the banana chips processing machine, you can leave a message to us. We will provide suitable banana chip processing solutions according to your needs so that you can better develop the banana chip business.